Air Conditioning Skylight Sealing
Deze airco raamafdichting is speciaal ontworpen voor dakramen, voor elk dakraam hebben wij de juiste afmetingen voor u klaarliggen! De afdichting is geschikt voor de slang van mobiele airconditioners en wasdrogers. 
Hoe werkt het?
De airco dakraam afdichting houdt de warme lucht van de slang  weg door de slang tussen het raamkozijn en het raam zelf te vergrendelen. Hiermee wordt een gesloten omgeving gecreëerd waarin de kamer koel blijft.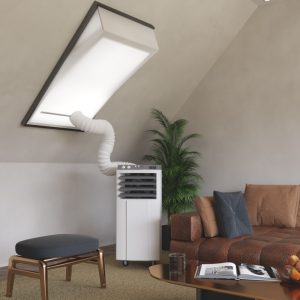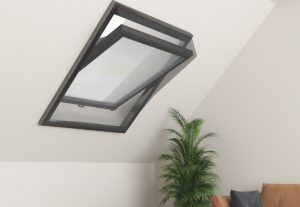 Insectenhor
Naast de airco dakraam afdichting beschikken wij ook over bijpassende insectenhorren. 
Deze kunt u gebruiken wanneer de airco niet aan staat maar u wel het raam open wilt.
For the right air-conditioning skylight seal

Measure the width and height of the window frame. Choose the correct size.

TIP!
Do you have a Velux / Fakro / Optilight / Luxtra or Roto window, please use the size chart at the bottom of this page.
Upon receiving, hold the skylight seal in front of your window to determine where the Velcro should be placed.
Then cut the Velcro to the right size and stick it on the window frame.
Simply place the air conditioning skylight seal on the Velcro, you can open the window.
The zip comes at the bottom. At the top, there is extra fabric for the rocker window to fall into.
Open the zip of the air-conditioning skylight seal.
Put the air conditioning hose through the zip and make sure it is positioned properly to the outside.





Close the zip.




The installation is now complete!
Optionally, you can choose to have the insect screen included.




Ideal for the colder days, you place this on the same velcro!
TIP! Zie ook de tabel hieronder voor de juiste airco dakraam afdichting.
VELUX
De maatcode van uw VELUX-dakraam kunt u ontdekken op het typeplaatje, die op de bovenkant van uw dakraam staat. Deze kunt u vinden op het draaiende gedeelte van uw VELUX-dakraam. U dient het dakraam te openen en een klein beetje te kantelen. Zo wordt de code zichtbaar. 
ROTO
De plaats van het type plaatje zit vaak in het kanteldeel van het dakraam, dus opent u het dakraam dan zit vaak bovenin links of rechts een plaatje waar alle codes op. Ook kan het ROTO type plaatje kan achter een rood lipje zitten, deze kunt u openklappen om de codes te zien.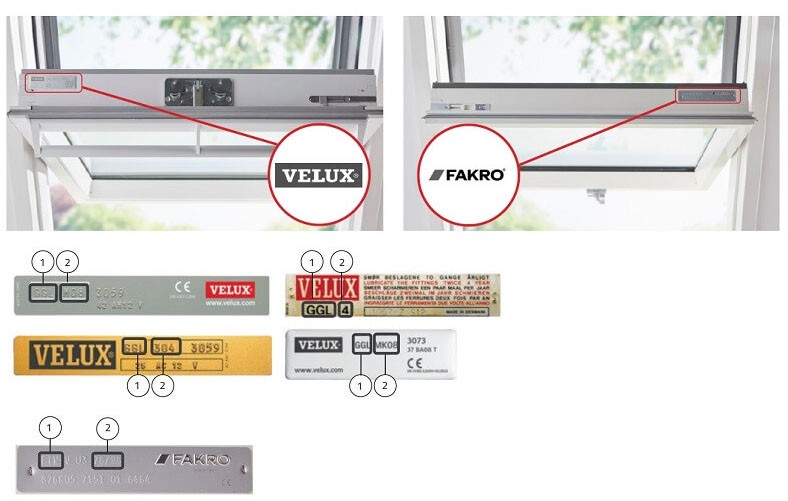 FAKRO, OPTILIGHT
Bij een VELUX dakraam zit het typeplaatje meestal aan de linkerkant, maar bij het FAKRO systeem vind je deze rechts.
Brand and Model:
Direct to product (without screen):
Direct naar product (with insect screen):
Velux: CK01 (GGL 9,101,c01l)
55 x 70 Without insect screen
55 x 70 With insect screen
Velux: CK02 (GGL 102, c02)
Fakro, Optilight: Size code 01
Luxtra: C2A
55 x 78 Without insect screen
55 x 78 With insect screen
Velux: CK04 (GGL 6, 104, c04)
Fakro, Optilight: Size code 02
Luxtra: C4A
55 x 98 Without insect screen
55 x 118 With insect screen
Velux: CK06 (GGL c06)
55 x 118 Without insect screen
55 x 118 With insect screen
Velux: FK04 (GGL 204, f04)
Fakro, Optilight:
Size code 03
Luxtra: F6A
66 x 98 Without insect screen
66 x 98 With insect screen
Velux: FK06 (GGL 5, 206, f06)
Fakro, Optilight: Maatcode 04
66 x 118 Without insect screen
66 x 118 With insect screen
Velux:FK08 (GGL f08)
66 x 140 Without insect screen
66 x 140 With insect screen
Velux: MK27
Fakro, Optilight: Size code 33
78 x 62 Without insect screen
78 x 62 With insect screen
Velux: MK04 (GGL 1, 304, m04)
Fakro, Optilight: Size code 05
Luxtra: M6A
78 x 98 Without insect screen
78 x 98 With insect screen
Velux: MK06 (GGL 14, 306, m06)
Fakro, Optilight: Size code 06
Luxtra: M8A
78 x 118 Without insect screen
78 x 118 With insect screen
Velux: MK08 (GGL 2, 308, m08)
Fakro, Optilight: Size Code 07
78 x 140 Without insect screen
78 x 140 With insect screen
Velux: MK10 (GGL 13, 310, m10)
Fakro, Optilight: Size code 13
78 x 160 Without insect screen
78 x 160 With insect screen
Velux: MK12 (GGL 11, 312, m12)
Fakro, Optilight: Size code 40
78 x 180 Without insect screen
78 x 180 With insect screen
Velux: PK25 (GGL 425,p25)
94 x 55 Without insect screen
94 x 55 With insect screen
Velux: PK04 (GGL 31, 404, p04)
Fakro, Optilight: Size code 15
Roto: 09/09
94 x 98 Without insect screen
94 x 98 With insect screen
Velux: PK06 (GGL 406, p06)
Fakro, Optilight: Size code 08
Roto: 09/11
94 x 118 Without insect screen
94 x 118 With insect screen
Velux: (GGL 408, p08)
Fakro, Optilight: Size code 09
Roto: 09/14
94 x 140 Without insect screen
94 x 140 With insect screen
Velux: PK10 (GGL 3, 410, p10)
Fakro, Optilight: Size code 80
94 x 160 Without insect screen
94 x 160 With insect screen
Velux: SK01 (GGL 601, s01)
114 x 70 Without insect screen
114 x 70 With insect screen
Velux: SK06 (GGL 4, 606, s06)
Fakro, Optilight: Size code 10
Luxtra: SK6A
Roto: 11/11
114 x 118 Without insect screen
114 x 118 With insect screen
Velux: SK08 (GGL 10, 608, s08)
Fakro, Optilight: Size code 11
Roto: 11/14
114 x 140 Without insect screen
114 x 140 With insect screen
Velux: SK10 (GGL 610, s10)
Fakro, Optilight: Size code 50
114 x 160 Without insect screen
114 x 160 With insect screen
Velux: UK04 (GGL 7, 804, u04)
Fakro, Optilight: Size code 12
Roto: 13/09
134 x 98 Without insect screen
134 x 98 With insect screen
Velux: UK06 (GGL 74, u06)
Fakro, Optilight: Size code 18
134 x 118 Without insect screen
134 x 118 With insect screen
Velux: UK08 (GGL 8, 808, u08)
Fakro, Optilight: Size code 17
134 x 140 Without insect screen
134 x 140 With insect screen
Velux: UK10 (GGL 810, u10)
Fakro, Optilight: Size code FN
134 x 160 Without insect screen
134 x 160 With insect screen