TIP! See the table below for the correct air conditioning skylight seal.
VELUX
You can find the size code of your VELUX skylight on the nameplate located on the top of your skylight. It can be found on the operating sash of your VELUX skylight. You need to open the skylight and tilt it slightly to make the code visible. 
ROTO
The location of the nameplate is often in the tilting part of the skylight, so when you open the skylight, you will often find a plate at the top left or right side with all the codes. In the case of a ROTO skylight, the nameplate may be behind a red tab that you can fold open to view the codes.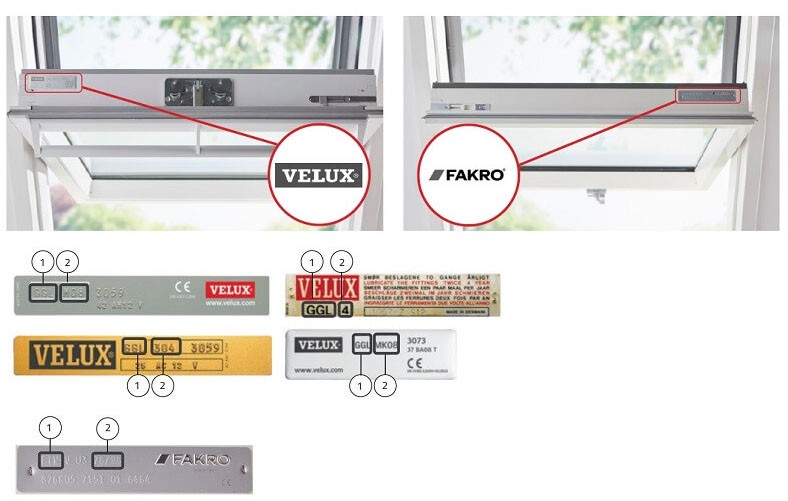 FAKRO, OPTILIGHT
For a VELUX skylight, the nameplate is usually located on the left side. However, for the FAKRO system, you will find it on the right side.
Brand and Model:
Direct to product (without screen):
Direct naar product (with insect screen):
Velux: CK01 (GGL 9,101,c01l)
55 x 70 Without insect screen
55 x 70 With insect screen
Velux: CK02 (GGL 102, c02)
Fakro, Optilight: Size code 01
Luxtra: C2A
55 x 78 Without insect screen
55 x 78 With insect screen
Velux: CK04 (GGL 6, 104, c04)
Fakro, Optilight: Size code 02
Luxtra: C4A
55 x 98 Without insect screen
55 x 118 With insect screen
Velux: CK06 (GGL c06)
55 x 118 Without insect screen
55 x 118 With insect screen
Velux: FK04 (GGL 204, f04)
Fakro, Optilight:
Size code 03
Luxtra: F6A
66 x 98 Without insect screen
66 x 98 With insect screen
Velux: FK06 (GGL 5, 206, f06)
Fakro, Optilight: Maatcode 04
66 x 118 Without insect screen
66 x 118 With insect screen
Velux:FK08 (GGL f08)
66 x 140 Without insect screen
66 x 140 With insect screen
Velux: MK27
Fakro, Optilight: Size code 33
78 x 62 Without insect screen
78 x 62 With insect screen
Velux: MK04 (GGL 1, 304, m04)
Fakro, Optilight: Size code 05
Luxtra: M6A
78 x 98 Without insect screen
78 x 98 With insect screen
Velux: MK06 (GGL 14, 306, m06)
Fakro, Optilight: Size code 06
Luxtra: M8A
78 x 118 Without insect screen
78 x 118 With insect screen
Velux: MK08 (GGL 2, 308, m08)
Fakro, Optilight: Size Code 07
78 x 140 Without insect screen
78 x 140 With insect screen
Velux: MK10 (GGL 13, 310, m10)
Fakro, Optilight: Size code 13
78 x 160 Without insect screen
78 x 160 With insect screen
Velux: MK12 (GGL 11, 312, m12)
Fakro, Optilight: Size code 40
78 x 180 Without insect screen
78 x 180 With insect screen
Velux: PK25 (GGL 425,p25)
94 x 55 Without insect screen
94 x 55 With insect screen
Velux: PK04 (GGL 31, 404, p04)
Fakro, Optilight: Size code 15
Roto: 09/09
94 x 98 Without insect screen
94 x 98 With insect screen
Velux: PK06 (GGL 406, p06)
Fakro, Optilight: Size code 08
Roto: 09/11
94 x 118 Without insect screen
94 x 118 With insect screen
Velux: (GGL 408, p08)
Fakro, Optilight: Size code 09
Roto: 09/14
94 x 140 Without insect screen
94 x 140 With insect screen
Velux: PK10 (GGL 3, 410, p10)
Fakro, Optilight: Size code 80
94 x 160 Without insect screen
94 x 160 With insect screen
Velux: SK01 (GGL 601, s01)
114 x 70 Without insect screen
114 x 70 With insect screen
Velux: SK06 (GGL 4, 606, s06)
Fakro, Optilight: Size code 10
Luxtra: SK6A
Roto: 11/11
114 x 118 Without insect screen
114 x 118 With insect screen
Velux: SK08 (GGL 10, 608, s08)
Fakro, Optilight: Size code 11
Roto: 11/14
114 x 140 Without insect screen
114 x 140 With insect screen
Velux: SK10 (GGL 610, s10)
Fakro, Optilight: Size code 50
114 x 160 Without insect screen
114 x 160 With insect screen
Velux: UK04 (GGL 7, 804, u04)
Fakro, Optilight: Size code 12
Roto: 13/09
134 x 98 Without insect screen
134 x 98 With insect screen
Velux: UK06 (GGL 74, u06)
Fakro, Optilight: Size code 18
134 x 118 Without insect screen
134 x 118 With insect screen
Velux: UK08 (GGL 8, 808, u08)
Fakro, Optilight: Size code 17
134 x 140 Without insect screen
134 x 140 With insect screen
Velux: UK10 (GGL 810, u10)
Fakro, Optilight: Size code FN
134 x 160 Without insect screen
134 x 160 With insect screen